You may continue to use your existing Verifone P400 card readers. We will provide customer support and critical software updates for the Verifone P400 through the end of 2023, but do not plan to introduce new features for these devices.
In mid-September, we launched version 5.3 of the Payment for Stripe iOS app. Among a bunch of improvements to the overall app, we also included functionality for our users in Canada to connect and use the Verifone P400 countertop card reader.
The countertop card reader can be purchased directly from Stripe, for C$399.
PCI compliant
Although the Payment for Stripe app is PCI compliant with manually entering card numbers since no payment or customer data is stored, using a card reader also adds an extra added layer of protection.
Strong Customer Authentication ready
Last year, the European Economic Area implemented strong customer authentication, which is essentially 2-factor authentication for your credit card. When a credit card is charged at a merchant, your customers may be asked to verify the payment before it succeeds. This gives you, the merchant, an extra added layer of security, and protects you from fraud.
Wifi or Ethernet enabled
The Verifone P400 card reader is both wifi and ethernet enabled which means that you can use your existing networks without any additional setup. The Payment for Stripe app will locate your card reader when it is connected to the same network.
Contactless payments (Apple Pay, Google Pay, etc)
During the uncertain times of COVID-19, offering a safe way to process payments without having to clean a surface, as well as adding the ability for several more payment methods, will set your business up for success for the unknown times ahead.
Chip/EMV enabled
Better than the free Square swiper, the Verifone P400 countertop reader is chip-enabled, and can process all chip/EMV cards.
Customizable screensaver
One of the most talked about features of the Verifone P400 card reader is the ability to set a custom screensaver, which is a 320x480 resolution image of your brand: your logo, instructions, etc, that is presented to the customer as they're waiting for you to enter in the amount. We've found that customers have become pretty creative with this in-your-face feature by offering promotions and additional selling channels, or advertising events.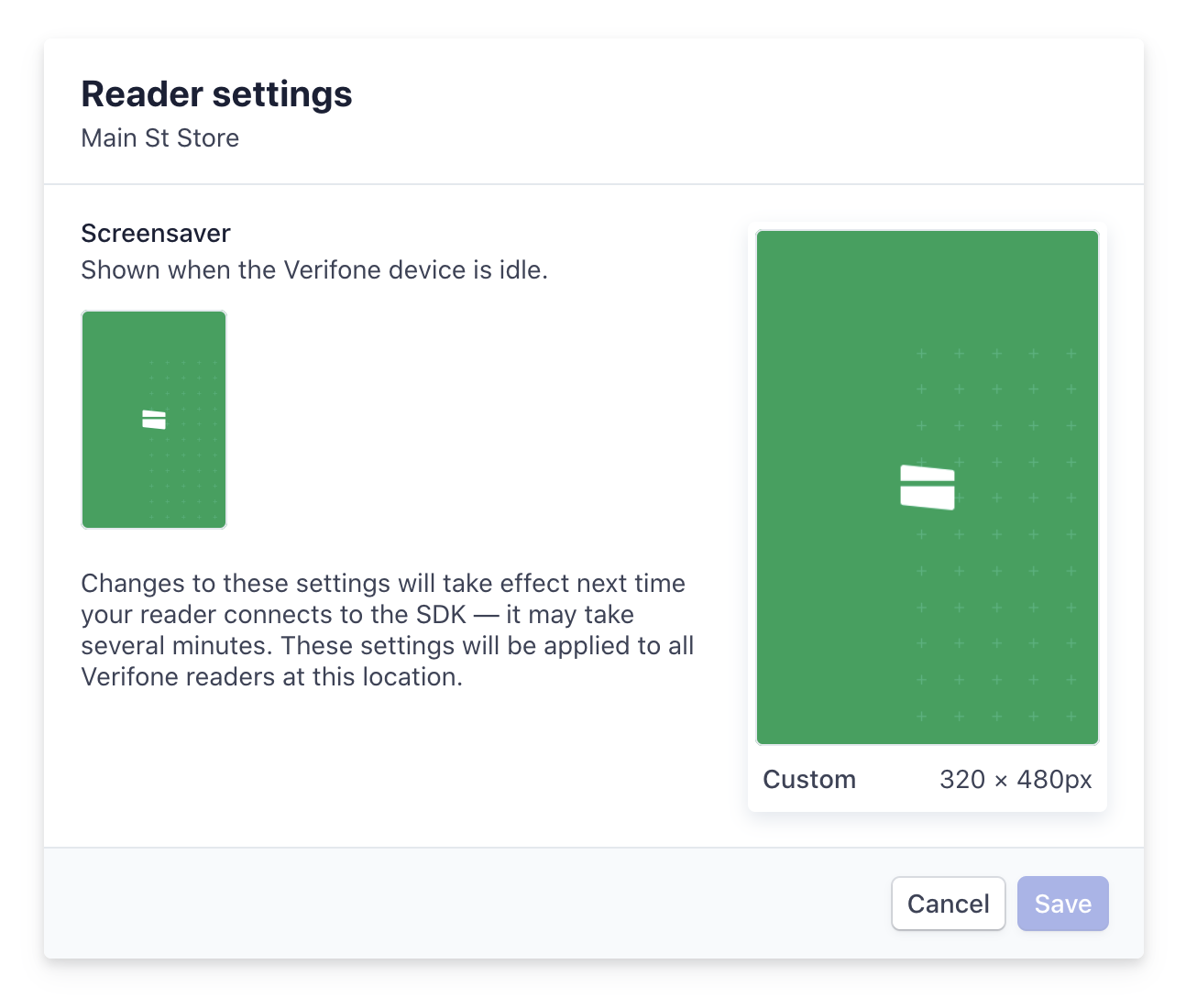 Setup & Registration
With a few simple steps, you can be up and running with the Verifone P400 card reader. You'll be able to accept new payment methods, provide for contactless payments to keep your store safe and enable Strong Customer Authentication without any additional setup or configuration.